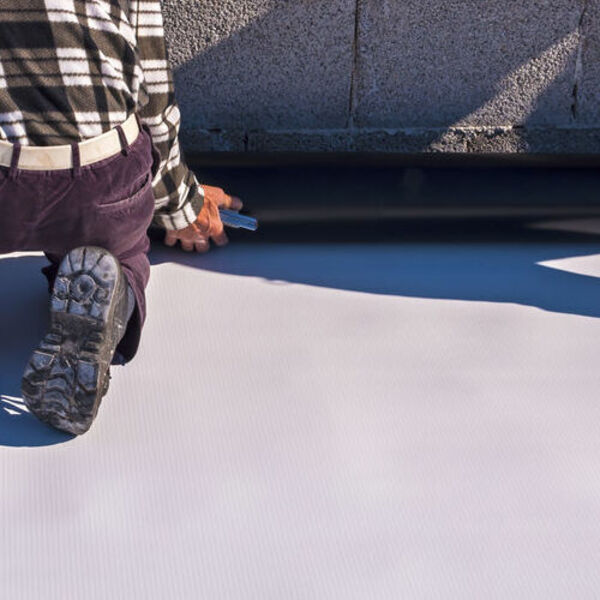 Rooftops Unlimited is an expert roofing company that is ready to get your flat roof set up with durable and protective roofing materials. When you require secure TPO roofing in Peachtree City, GA look no further than our team of trained and certified roofers. We're here to help at 770-415-2070 so give us a call to speak with us about your commercial roofing goals.
A TPO roof, or thermoplastic polyolefin, is a single-ply roofing system made of a single layer of synthetic materials and reinforcing scrim that's made to cover flat roofs. It can be adhered or mechanically attached and can be reapplied at the end of its roof life. The strength of TPO roofing is about 3-4 times more than EPDM roofing, which makes it a long-lasting roofing system that can last anywhere from 15-20 years. It's highly reflective, which will be able to lower the cost of HVAC bills due to the cooling ability to block out the sun's UV rays.

As far as maintenance, it's important to have your roof pressure washed to clear it of debris and dirt and grime build-up. A mild household detergent and water can be used to clean the surface. After cleaning, the roof should be inspected for any damages and repaired according to GAF's guidelines.
TPO Repair and TPO Replaclment
If you find that your TPO roof is in need of repairs contact your local roofer for repairs. Only a trained and certified roofer will be able to utilize the tools and equipment needed for proper repairs. If the age of your roof has surpassed the expected roof life or damages are widespread consider a replacement. No matter the level of damages we'll have your roof back in good condition.
Rooftops Unlimited is a GAF-certified roofer that has over 24 years of experience in roofing. If you're looking for professional TPO roofing in Peachtree City, GA contact our crew at 770-415-2070 for assistance. We're here to provide you with a custom estimate so that you can be on the same page regarding your roofing services.